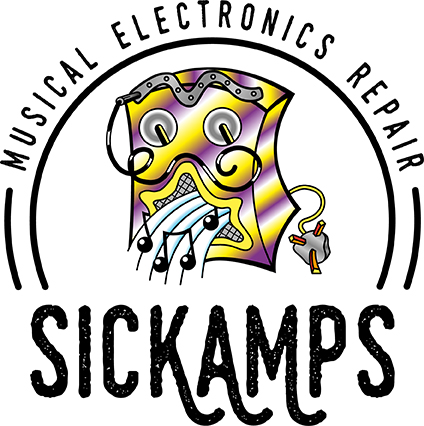 Sickamps started out in 2009.
Chris, the owner, has always had a passion for electronics and repairing equipment.
Chris has an extensive background in electronics and engineering including qualifications in City and Guilds and Higher National Certificate (HNC) in both. He has always worked in the events and entertainment industry and has repaired and built his own electronic musical equipment.
Chris then started fixing friend's guitar amps. It didn't take long for word to spread to the musicians of Harlow, Bishop's Stortford, Sawbridgeworth and beyond and Sickamps was born.
Sickamps has now flourished to a specialist repair company which is accredited by some of the largest names in musical electronics such as Yamaha and Marshall.
Sickamps can deal with Guitar Amps, Bass Amps, Electronic Pianos, Mixing Desks, Stage and DJ Equipment.
Sickamps prides itself on its stellar customer service and is open and honest on its pricing structure and timescales. This along with a easy online booking system has now made Sickamps one of the leading repair companies in the Home Counties area.
Here at Sickamps, we have been approved by the world's leading brands in electronic musical equipment.
We are proud to offer servicing and repairs to a variety of big names.
Recognised Repair Agent – This means we are supported by the manufacturer and enforce a good relationship with regards to parts and schematics
– KORG – FENDER – ORANGE – MARSHALL -VOX
Service Centre – These brands allow us full access to all schematics and all service information. We have been fully checked and approved by these brand and have received their accreditation.
-BLACKSTAR – VICTORY -YAMAHA -PEAVEY – VICTORY – ROLAND -PRS -SOLDANO -RANDALL
Warranty Approved – If there is an issue with your amp or piano and it is still under warranty, we can make official brand approved repairs. these are at no cost to the end consumer
– MESA BOOGIE
As we are recognised by many of the leading brands, this means we have access to Original Equipment Manufactured (OEM) parts, to ensure your repair stays as original as possible.
If your amp is not on this list, do not fear! We can still have a look and try and solve your problems.
.